Fats have such a stigma attached to their name! Initially, I too used to associate Fats to be the opposite of fitness. Later, I learned about essential body fats, storage body fats, and how the body fat percentage calculators can help me to determine the amount of fat I actually have.
If you're confused about why some fats are essential, then hang on, it'll all clear up after going through this article.
The fats in our body play two important roles. First, they are used to store energy i.e. Storage Body Fats. They can at times also cushion important body parts from injuries upon impact, usually around our abdomen.
Second, Essential Body Fats are crucial to the efficient functioning of our body. These are present in our muscles, bone marrow, nervous system, and other organs in small quantities. Having total fat percentage around or below this can lead to many health issues.
When we weigh ourselves, we're actually looking at the combined weight of our bones, fats, muscles, and organs, etc. But what percentage of our total weight are the fats? That's the figure you can find out through calculating your body fat percentage.
This value consists of both storage and essential body fat.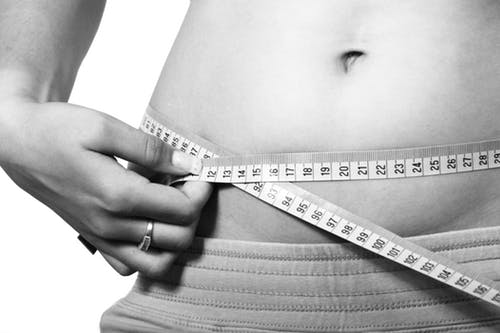 How to Calculate Body Fat
The method of calculating body fat is different for men and women. Since women have to give birth and undergo different hormonal functions, their body fat percentage value is relatively higher than their male counterparts.
Body Fat Calculations for men
In the case of men, you only need 2 measurements:
Your Current Weight
The circumference of your Waist (Around your belly button)
Plug in the values in the following formula:
Body's Lean Mass = (Weight x 1.082) + 94.42 – (Waist x 4.15)
Body's Fat Weight = Weight –Body's Lean Mass
Body Fat Percentage (BFP) = (Body Fat Weight / Weight) x 100
Body Fat Calculations for Women
For females, we require 5 measurements to calculate body fat percentage:
Current Weight
Waist Circumference (Around your belly button)
Wrist Circumference (Around smallest part of your wrist)
Hip Circumference (Around the largest part of your hip)
Forearm Circumference (Widest part of the arm below elbow)
Once you have all these measurements, plug them in the following formula:
Body's Lean Mass = (Weight x 0.732) + 8.987 + (Wrist / 3.140) – (Waist x 0.157) – (Hip x 0.249) + (Forearm x 0.434)
Body's Fat Weight = Weight –Body's Lean Mass
Body Fat Percentage (BFP) = (Body Fat Weight / Weight) x 100
Note: All measurements to be taken in pounds or inches:
Or, I suggest putting in your measurements in an online calculator and skipping the math!
RECOMMENDED FOR YOU
Interpretation of Body Fat Percentage
Once you have calculated your body fat percentage, compare its value with the following figures to determine your category:
| | | |
| --- | --- | --- |
| Body Fat Percentage Value | Women | Men |
| Essential Fat | 10-13% | 2–5% |
| Athletes | 14–20% | 6–13% |
| Fitness | 21–24% | 14-17% |
| Average | 25–31% | 18–24% |
| Obese | 32%+ | 25%+ |
Your body fat percentage value should always be higher than the Essential fat values.
Risks of having Low Body Fat Percentage
Having a low body fat percentage can give rise to many risks. This is why even athletes reduce their BFP for some time in a year only, usually before competitions.
You'll have no stores of energy which might lead to you feeling fatigued all the time.
Your risk of heart diseases, diabetes, hormonal imbalance, nervous system damage, and gastrointestinal problems increase when you have a low body fat percentage.
Since the brain requires fatty acids to perform optimally, having a low BFP may lead to poor brain functioning.
If you're a woman, having low-fat body percentage may lead to complications in getting pregnant and maintaining the pregnancy.
Having low BFP has also been linked with causing depression and anxiety.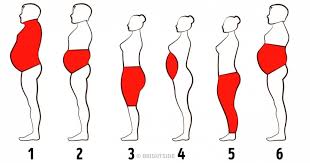 Risks of having High Body Fat Percentage
Having a high BFP is not only bad for your appearance, but also for your health. Below I have stated some of the risks associated with it:
Having a high BFP increases your risk of many diseases such as arthritis, osteoporosis, heart diseases, etc.
High levels of bad cholesterol can lead to strokes, which is one of the leading causes of death around the globe.
High BFP can cause hormonal imbalance in women, sometimes leading acne and facial hairs.
It also causes complications in pregnancy and can lead to premature birth.
People who have high BFP have a very high risk of getting affected by type 2 diabetes.
Conclusion:
Body Fat percentage is an excellent indicator of your fitness levels. Since fats play an important role in our bodies, even athletes try to not go down to or below the essential fat level.
If you want to have an accurate idea about how much fat you need to lose, then calculating your body fat percentage should be the first step that you take!
I'm really curious to know your body fat Percentage in the comments down below!
If you enjoyed this post, kindly help it spread. Thanks!
SUGGESTED FOR YOU