Protein undoubtedly is one of the most essential nutrients required by the human body. And if exercise and working-out are a regular part of your lifestyle, then consuming an adequate amount of protein is extremely important.
Protein supplements are the most convenient method of meeting up the additional protein requirements of the body post workout. And the Ultimate Nutrition Prostar 100% Whey Protein is one of the most popular choices among fitness freaks.
During exercise, our muscles go under a lot of stress which results in tearing or breaking of muscle fibers. Thus, for their repair and for building up muscle mass, protein is crucial for the body.Whey protein is the protein present in whey, the watery chunk of milk that is separated from the curd while making cheese.
Whey protein is widely used for increasing the strength and improving athletic performance. It repairs tissues and muscles faster along with reducing the recovery time. It also assists in strengthening the body's immune system and does support in both muscle building & fat loss.
Protein is made up of amino acids, among which some are prepared by the body on its own and others, called essential amino acids. These 9 essential amino acids are readily available in the Ultimate Nutrition Prostar 100% Whey Protein.
The macro split is of high quality, especially at the price point at which it is offered, provided some grams of carbohydrate and fat doesn't matter to you.
Box of Ultimate Nutrition Prostar 100% Whey Protein Contains
Sales Package Includes 1 Protein Supplement
General Information
Brand Ultimate Nutrition
Model Prostar 100% Whey Protein
Quantity 5.28 lb (2.39 kg)
Flavor Chocolate Crème
Protein Type Whey Protein (Blend)
Form Powder
Servings per container 80
Serving size per scoop 30g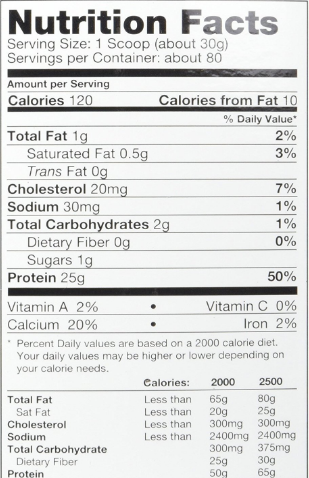 % Daily Value (Nutrition Profile)
* Percent Daily Values are based on a 2,000 calorie diet
Calories 120
Carbohydrate 1 %
Protein 50 %
Fat 2 %
Dietary Fiber 0 %
Sodium 1 %
Saturated Fat 3 %
Cholesterol 7 %
Calcium 20 %
Vitamin A 2 %
Vitamin C 0 %
Iron 2 %
RECOMMENDED FOR YOU
Ultimate Nutrition Prostar 100% Whey Benefits
The Ultimate Nutrition Prostar 100% Whey Protein enables the muscles to recover faster after a workout, helps in muscle growth and reduces muscle fatigue. Whey peptides also help in keeping the muscles in the anabolic state which results in muscle growth even when the body is at rest.
It comes in four different sizes of jars which are 1, 2, 5 and 10 lbs. Its suggested serving size is 30g, at least once a day after a workout, out of which 25g is protein and 6g is BCCA. The fat content is 1g whereas carbohydrates content is 2 g, an optimum macronutrient ratio and a composition widely sought out by the consumers in protein supplements.
The Ultimate Nutrition Prostar 100% Whey Protein claims to boost the body's immune system, builds muscles and enables fat loss, and decreases muscle recovery time. It delivers what it claims for the majority of its users.
When consumed immediately after the workout, most people reported that it helped increasing muscle mass in a short span of time, usually a month or two.
It can be consumed by mixing in water. It forms a smooth creamy textured drink and comes in a variety of flavors including chocolate, banana, cookies and cream, strawberry, vanilla and many more. Some users did complaint that cold water or milk made it hard to mix and blend in, which can be considered its con.
My Verdict on Ultimate Nutrition Prostar 100% Whey Nutrition
PROS
Value for money
The Low percentage of carbohydrates and fat
Nice mixability
6g of BCAA's
CONS
Presence of soy content, lactose
No digestive enzymes
Artificial sweeteners

Packaging
The packaging container is of translucent blue color, the seal is flawless and the container is pretty tough. All the basic info like brand information, nutritional information, and also about the importers are well printed and displayed over the container. Overall a good quality packaging is provided by Ultimate Nutrition.
Packaging Points – 9/10
Ingredients
The supplement is a Protein blend consists of Whey Protein Isolates, Whey Concentrates, Whey Peptides, Cocoa, Sodium Chloride, Sucralose, Acesulfame Potassium, Natural and Artificial Flavors, Soy Lecithin. Thus, it has all the ingredients in correct proportion to achieve the fitness goals.
Ingredients Points – 8/10
Mixability
It dissolves really quickly and easily, could be due to the presence of the soy lecithin. I didn't notice any formation of clumps while mixing either in water or milk, also the time taken to blend is short. Thus, I am totally satisfied with the mixing ability of this supplement.
Mixability Points – 8/10
Taste
I personally tried the Chocolate Crème flavor; however, it comes in several others flavors like vanilla, banana, chocolate, cookies and cream, chocolate mint, chocolate mocha, natural, raspberry, rum raisin, and strawberry. I felt the flavor to be a bit sugary with a creamy texture— I was pleasantly surprised and convinced by its taste.
Taste Points – 8.5/10
Effectiveness
As per each scoop (30g) of Ultimate Nutrition Prostar, it contains nearly (25g) 83% of protein that means better results can be expected if consumed on regular basis over a period of around 3-6 months. The presence of 6g of BCAA's also enhancing the outcome and recovery after every rigorous workout session.
Effectiveness Points – 8/10
Side Effects
No side effects were observed by me, however, mild bloating have been reported by a very small set of users only if consumed 3 or more than 3 scoops per day. I suggest evaluating one's own body before consuming any set of supplements as few people are allergic /intolerant to dairy products. I didn't notice any side effects as such.
Side Effects Points – 9/10
Value for Money
Ultimate Nutrition Prostar 100% Whey protein is really an excellent package at the price point it is offered. I haven't observed such a 'value for money' made in USA product as opposed to many other national /international supplements.
Value for Money – 10/10
Overall Points – 8.64/10 (HIGH RATED)
Conclusion
The Ultimate Nutrition Prostar 100% Whey Protein is overall, one of the best whey protein supplements available in the market at a very reasonable price. The macronutrient ratio it offers is exemplary with a great variety of flavors.
It's a low-fat, low-carb but high-protein content and offers a great value for money so you should definitely give it a go.
All in all, a must try excellent whey protein supplement which is really capable of giving good results that too without drilling a hole in your wallet.
P.S. – I encourage you to consult your physician before engaging yourselves in any sort of supplementation.
If you enjoyed this post, I'd be very grateful if you'd help it spread. Thank you!

SUGGESTED FOR YOU