Heat stroke in an emergency medical condition which results when the body's core temperature rises to or above 104 °F (40 °C). It can happen to anyone, but fitness enthusiast and athletes are more susceptible to it owing to their tough vigorous physical routine.
So, I decided to educate my readers about the possible dangers of heat stroke, its symptoms, precautions, and it's treatment.
What is Heat Stroke?
The normal body temperature of our body is somewhere around 98.6 °F (37 °C). During summers or hot environmental conditions, our body tries to keep us cool by sweating. When the sweat evaporates, our body cools down.
Another way of cooling down is when our brain sends more blood to our skin, arms, and legs to let heat escape. This is why our face turns so red when we go out in hot weather.
But in extremely hot conditions, these measures are not enough to cool down our body – and our core temperature can rise to anywhere between 101 °F to 104 °F, making it difficult for the heart to pump blood and therefore, causing a heat stroke.
Heat Stroke Causes
Being exposed to extremely hot weather is quite taxing on the body. And if you work out in such condition, it will get harder for our body to get rid of the extra heat made due to exercise, which can lead to a heat stroke.
You also become more prone to heat stroke if you're:
Suffering from an illness or infection
A drinker of alcohol or drugs before exercising
Dehydrated
Not used to being in a hot environment
In poor shape
Taking certain medicines such as antihistamines and stimulants etc.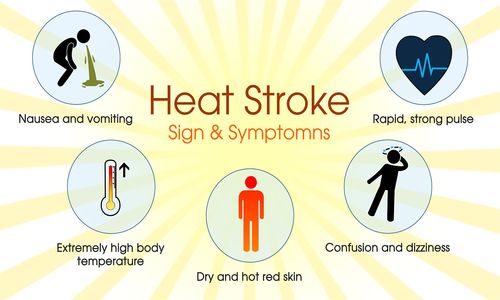 Heat Stroke Symptoms
Many of us who have never suffered from heat-related illness, may find it hard to identify its symptoms. The most telling symptom of a heat stroke is a body temperature of 104 °F. But you might experience these warning symptoms before your body reaches that point.
Some of these symptoms are:
Flushed face, red, and hot skin.
Throbbing headache
Nausea or Vomiting
Rapid Breathing
Increased heart rate
Sweating
Cramps in muscles
Confusion or Agitation
Low blood pressure
Trouble having a visual focus
RECOMMENDED FOR YOU
Heat Stroke Precautions
Suffering from heat stroke is serious stuff and you should try your best to prevent that from ever happening. Some of the precautions you can take to avoid it are:
Be aware of the weather conditions
Before planning your workout, check what the temperature is going to be that day. If you want to do outdoor sports or activity, try to choose early morning or evening time when the weather is not that hot.
Dress up smartly
Your summer active wear or clothes should be light, loose, and to the minimum.
Stay hydrated
If you aim to work out and exercise in hot weather, then staying hydrated is crucial. Make sure you drink plenty of water, juices, or an electrolyte-rich sports drink if necessary.
Take breaks
If you're working out in a hot and humid environment, then don't forget to take extra breaks and extra swigs of your water!
Listen to your body
In case you start experiencing any of the symptoms of heat stroke, immediately remove yourself from the situation and follow the treatment steps mentioned above.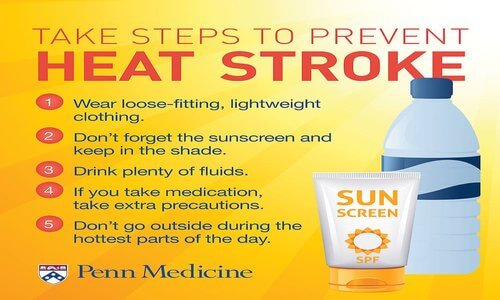 Heat Stroke Treatments
If you experience these symptoms, the following steps should be taken right away:
Stop whatever exercise or physical activity you are doing.
Move to a cool or at least shady area.
Try to have someone accompany you so they can monitor you as well as call for help.
Lie down and raise your legs to a level that is above your head.
Take off any extra layers of clothing, accessories, or equipment that you're wearing.
Drink water or an electrolytic sports drink.
If you don't feel better after following these steps, then immediately go to an emergency room.
In case you observe someone getting unconscious due to heat stroke, you should seek medical help immediately and:
Move the person to a cool or shady area.
Remove excess clothing, accessories, or equipment.
Cool the person's body with whatever means are available. You can sponge him, put him in a water tub, fan his body, or place wet towels on his head, neck, armpits, and groin area.
Try to keep the person cool until medical help arrives.
Conclusion
Heat stroke is a serious medical condition which can result in unconsciousness, vital organ damage, and in some cases, death. You become more prone to it if you perform a vigorous exercise in a hot environment.
Follow the treatment steps mentioned and always take the necessary precautions to avoid serious damage from this condition.
If you enjoyed this post, Don't forget to spread the words. Thank You!
SUGGESTED FOR YOU