Our body is an extremely well-made machine. And one of its best qualities is its ability to adapt. When we talk about strength training, we're basically adapting our muscles against resistance. This is why strength training is also called resistance training.
Let's talk about lifting weights. If your muscles aren't strong enough, you won't be able to lift a big number. But slowly and surely, with training and practice, you'll see lifting that number is not big a deal.
And then you can move on to lifting heavier weights. This is strength training in a nutshell i.e. training your muscles to endure more resistance and making them strong while doing so!
I think each and every one of us should make these exercises a part of our daily routine. And after knowing about its benefits, I'm sure you'll agree with me.
Benefits of Strength Training
Strength training can be beneficial to your overall health, fitness, and wellbeing. It can increase your bone, muscles and tendon strength which means you'll be able to perform your daily routine tasks easily.
It improves joint functions, cardiac function, metabolism, and bone density.
Strength training increases our muscles and muscle mass. And because muscles require more calories to fuel it, this training ultimately burns fat to make up for that.
It also:
Enhances Muscle Mass and Metabolic Rate
Lowers risks of injury
Improves balance
Improves Strength and Endurance
Decreases Blood Pressure and bad Cholesterol levels of the body
Strength Training Exercises
Now that you want to start strength training, its best to look into the different muscle groups and their respective exercises.
Our largest muscle group includes our hips(Glutes), upper legs(Quads), lats, torso, lower leg muscles, arms, abdominal and so on.
One of the tips for doing strength exercise is engaging the largest muscle group first and then moving on to smaller muscle groups. The abdomen and lower muscles are important for our posture, so they should be exercised in the last to not fatigue them too early.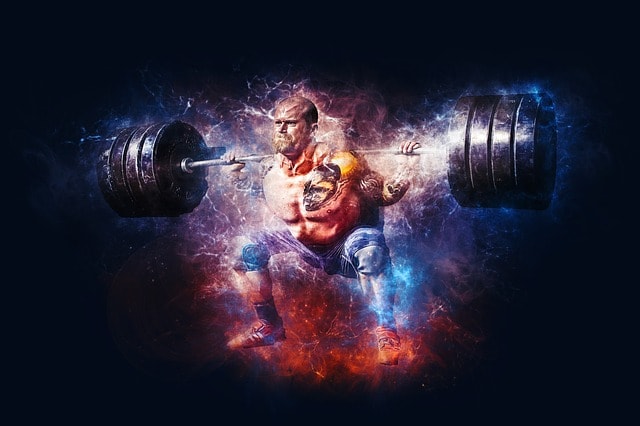 Some of the strength training exercises along with their target muscle groups are:
Lower Body: Squats, Leg press, Calf raises, and Lunges
Back: Dead-lifts, Pull-ups, Pull-down, T-bar Rowing and Bent over Rowing
Chest: Chest press, Bench press, and Push-ups
Abdominal: Planks, Crunches, Pelvic tilts, and Wood chops
Biceps and Triceps: Bicep curls, Hammer curls, Triceps extensions, and Dips
Following are the 5 Best Strength Training Exercises:
These exercises are a great way to start your strength training. The best part is that you can do these at your home!
Deadlift
One of the best compound strength training exercises for mid to advanced levels.
You will need a barbell with some weights at the end.
Put your feet flat on the ground, bend down at your knees and hold the bar with your hands.
Your hands should be a bit wider than shoulder-width apart.
With mid-feet below the bar, bend your knees till you shin touch the bar.
Straighten your back while lifting your chest up.
Take a breath and stand up with the weight.
Hold the weight for a few seconds then return it slowly to the ground.
RECOMMENDED FOR YOU
Squats
Squats are one of the best beginner exercises for strength training for legs, core and upper body.
You will need a barbell with some weights at the end
Stand with your feet facing forward and slightly wider than your hips
Bring your arms out straight.
Push back your shoulders, chest out, and tighten your abs.
Slowly bring your hips down while ensuring your knees are not pushed beyond your toes.
Push down on your heels, not toes.
Slowly bring your body back to the start position without rounding your back.
Bench Press
Another very effective strength exercise majorly targeting your chest, and arms muscles.
Lie flat on the bench.
Grab the bar with hands bit wider than shoulder-width apart.
Lift the bar up while straightening your arms.
Bring the bar down almost to your chest level.
Lift the bar up until your arms are straight and squeeze the chest.
Hold the weight for a few seconds, with straight arms and hips firmly on the bench.
Lower the bar again and repeat the exercise.
Push-Ups
I think push-ups are an all-rounder exercise and are a great way to engage lots of muscles at the same time.
Start in a plank position with extended arms.
Lower your body until your chest almost touches the floor.
Make sure your body is forming a straight line, with elbows close to your side.
Hold for a few seconds and then push yourself up to starting position.
You should try to do as many reps as possible while keeping your form correct.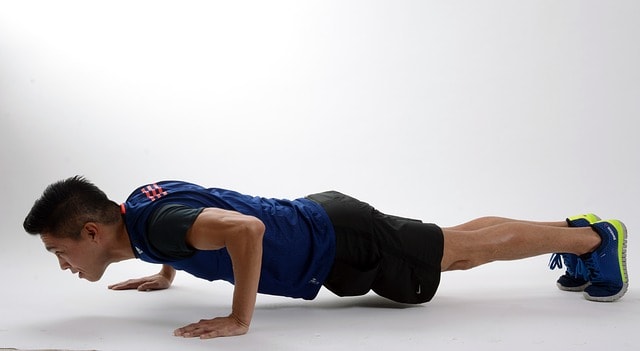 Planks
Planks are a great exercise for strengthening your body overall especially the core.
Take the push-up position, with arms shoulder-width apart. Your weight should be on your forearms instead of hands.
Suck in your belly towards spine. This will engage your core.
Your elbows should be below shoulders and toes below ankles.
Make sure your body is in a straight line. Hold this position for as long as possible
Conclusion
Strength training exercises are a great way to improve your strength as well as overall health. Most of these exercises can be easily performed at home, but you can also make them a part of your workout in the gym.
I think everyone should make strength training a part of their daily life and see the difference it makes.
If you enjoyed this post, I'd be very grateful if you'd help it spread. Cheers!
SUGGESTED FOR YOU