It won't be wrong if we say water is life. While drinking it is important and beneficial for each and every one of us, it becomes even more important if you're an athlete or you work out. This is why it is termed as one of the most important nutrients for fitness; after all, our body is 60% water.
At first, I used to drink this fluid as an excuse to take a rest during working out. But now, I drink it because I know how important and beneficial it is. Once you get to know its benefits, I'm sure you'll increase your water intake like me.
Importance of Drinking Water
Physical exercise is demanding as well as hard. And when you're trying to meet your fitness goals, your workouts tend to be even more demanding. Here's how drinking more of it can help you achieve your fitness goals:
1. Dehydration
During exercise, we sweat and lose water. This might lead to dehydration if you don't replenish your body by drinking enough. Dehydration does not only cause dizziness, but it also causes muscles to fatigue faster and lose their coordination. This is why one must drink water before, during, and after exercise.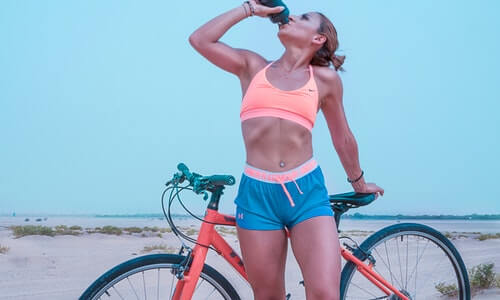 2. Muscle Cramps
Since lean muscles are 75 percent water, it should come as no surprise that lack of it may lead to muscular cramps. Although cramps are caused by vigorous exercise, lack of this amazing fluid can worsen them. I definitely feel a difference in my cramps on the days that I've drunk enough water.
3. Weight Loss
Who wouldn't love to lose weight without moving an inch? Well, you might if you start drinking more water! A glass before taking a meal can not only boost metabolism and help in digestion of food, it can also decrease your appetite so you eat less. Hence, more water equals more weight loss!
4. Improves Joints Functioning
When we undergo vigorous exercise routines, our muscles and joints suffer a lot. Water is especially important for the health of our joints as the Synovial Fluid constitutes of water. When our body is dehydrated, the synovial fluid isn't able to cushion the joints well enough. This can be harmful to the health of our joints and may lead to injuries.
5. Helps to Reduce Fatigue
Feeling tired and lethargic is the part and parcel of a vigorous workout. But did you know that dehydration can cause you to fatigue as well? That is because water plays an important and critical role in the process of energy transformation.
All the energy reactions of our body take place in this medium. This is why water is termed as the most critical nutrient.
RECOMMENDED FOR YOU
Apart from above benefits, drinking enough water helps to:
i. Improve Endocrine Gland Function
Endocrine glands control all the hormones in our body. This is why improvement in its function leads to a better mood, metabolism, and improvement in other functions of the body.
ii. Reduces Fluid Retention
Sometimes our body starts retaining water to keep us from dying of thirst. This important survival property of our body can also cause bloat, swelling and an increase in weight. Drinking enough water signals our body that we don't need to retain fluid and hence it's retention is reduced.
iii. Reduces the risk of Illnesses
Studies have shown that drinking plenty of water reduces chances of colon cancer, bladder cancer as well as breast cancer. It also prevents the formation of stones in kidneys and urinary tract infections (UTIs).
iv. Crucial for normal Brain Functioning
The brain is the control unit of our body and dehydration can affect it in a very bad way. Even mild levels of dehydration can not only affect our mood but also cause a reduction in energy levels, memory function, and overall brain performance.
v. Improves Liver Function and Metabolism
Staying hydrated helps our liver to burn more fats during ketosis. It also improves our metabolism and increases metabolic rate.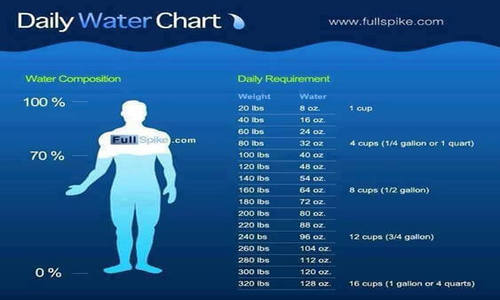 How much Water to Drink?
Each individual has different water needs depending on their activity level, age, climatic condition, and health, etc. That being said, a normal adult is suggested to drink:
For males, it is suggested that they should drink around 3 liters every day.
For females, the suggested intake for a day is 2.2 liters.
When working out, aim to drink at least 400-700 milliliters 2 hours before the workout.
For every 15 minutes of a workout, drink around 200-300 milliliters of it.
If the workout session lasts for more than 60 minutes then a sports drink should be consumed to replenish salts and electrolytes.
Conclusion
Water is essential for survival and even more, when working out is the part of your routine. It not only helps improve brain and body functions, but it also helps in losing weight. Water should be consumed before, during, and after working out so you eliminate any possibility of dehydration.
If you enjoyed this post, Let me know in the comments. Thank you!

SUGGESTED FOR YOU