If you ask me about the one physical activity that every one of us; despite age, gender, occupation, health status, etc. should be doing, it will be walking for sure.
Walking can be done anywhere, at any pace, and during any part of the day. Nor does it require any equipment, neither are there any side effects that some vigorous exercises might have.
Just by doing 30 minutes of walk daily you can improve your cardiovascular, physical and mental health. It also aids in losing weight, gets fit, and make yourself creative!
Science of Walking
Although walking might seem simple and straightforward – and it is, you can always inculcate the following guidelines in your walk to turn it into a fitness exercise:
Posture:
Just like in any exercise, correct posture is important to reap the maximum benefits of walking. To have the correct posture, make sure:
Your head is up, and you're looking straight ahead.
Body language is relaxed i.e. there is no tension in your neck, shoulders, and back.
Arms should be swinging freely and not stuck to your side.
Your back is straight i.e. not arched too back or bent forward. Its good practice to keep your stomach muscles slightly tightened.
Try to put your weight on the whole foot i.e. heel to toe.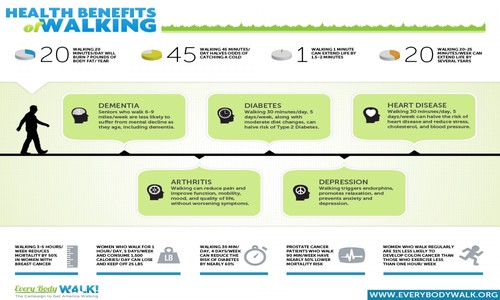 Shoes:
Wear shoes that have proper support for the foot arc and have thick and flexible shoe soles that cushion your feet to absorb shock.
Warm-Up:
It is important that you warm up before doing any exercise. You can do so by walking at a slow pace for 5 minutes and then increasing your stride.
Cool Down:
Just like warming up is important, so is cooling down. At the end of your walk, cool down by walking slowly for 5 to 10 minutes to slow down your heart rate and cool down the muscles.
Types of Walking Exercises
Walking can be done in a few different ways, either spice up your walk routine or to reap different benefits. Some of the types are:
Brisk Walking
The brisk pattern of exercise is the type where you maintain a steady pace of walk that is neither considered fast nor slow. As a rule of thumb, a pace where you are able to talk but not able to sing is considered brisk.
Hill Walking
Like the name indicated, in this type you walk uphill on a mountain or hill. This burns more calories than a usual brisk walk and helps to develops leg muscles.
RECOMMENDED FOR YOU
Water Walking
This typically involves taking a walk in the water. This can be done in a swimming pool, a water tank, a stream, or a lake. Necessary precautions should always be taken if you opt for this exercise.
Interval Walking
It involved adjusting the speed of your walk too fast and slow/moderate. You might want to walk at a very fast pace for 20 seconds and then walk moderately for 40 seconds. This is ideally done for 20-30 minutes.
You can also do interval exercise by switching between a jog and a walk.
Treadmill Walking
This type involves walking for 30 minutes on the good old treadmill. It is great for people who prefer going to gyms and avoid any obstacles they might face outdoors.
Benefits of Walking
Walking is a highly beneficial exercise that is quite underrated. If you start to walk for just 30 minutes daily, you'll be able to reap the following benefits:
The Daily walk has been linked with burning calories, reducing belly fat and preventing muscle loss.
Reduces Risk of Chronic Diseases
Regular walking helps to reduce blood sugar level, lowers blood pressure, and the risk of stroke.
Especially uphill and water walking is a great way to build some leg muscles and strength.
Taking a walk is a great excuse to spend some time outdoors and relax, which has proven to improve mood, relax mind, and to help fight depression.
Researches indicate that regular walking can add as much as 7 years to your life. That's almost a decade!
An active lifestyle is a great way to keep cancer at bay.
In a study conducted, it was found out that regular walks help to improve memory and your ability to focus.
Scientists claim that a regular walk is a great way to alleviate the symptoms of anxiety.
Even when you're not walking at a brisk pace, it is a great way to get your muscles and joints moving.
Researches claim that walking is a great way to improve the duration and quality of your sleep.
Conclusion
Walking is an all-rounder exercise that should surely be a part of your daily life. It has a multitude of benefits which can benefit everyone from kids to adults to old people.
If you want to ward off diseases, improve your mental and physical health, and feel good; then adopt the habit of walking for at least 30 minutes in a day.
If you enjoyed this post, don't forget to help it spread. Thanks!
SUGGESTED FOR YOU