Being a functioning adult and consuming caffeine are two mutually inclusive events for lots of around us. For some people, the day doesn't start until they've had their cup of tea; while for others, coffee is the key to waking up.
Caffeine, a stimulant, is a tasteless ingredient that helps you stay alert and awake. But it also does quite more than that; read on to find out more!
Sources of Caffeine
Many of us rely on a cup of coffee to pull an all-nighter or to power through a boring meeting. Whereas some just have a love affair with a cup of tea and can have it any time of the day. Both Tea leaves and coffee are some of the sources of caffeine.
Some other sources are:
Cocoa Beans
Loose-Leaf Green Tea
Energy Drinks
Soft Drinks
Guarana Seed
Yerba Mate Tea
Chocolate or Coffee flavored Ice-Creams
Chocolate Milk
Protein Bars
How Caffeine Works?
Over the course of the day, our body produces a chemical called Adenosine, which is an inhibitory neurotransmitter. Its levels are low when we first wake up in the morning, but as the day passes and we get involved in physical and mental activities, the levels of adenosine keep on increasing.
Ultimately, adenosine binds with adenosine receptors present in the brain and signals our body to sleep.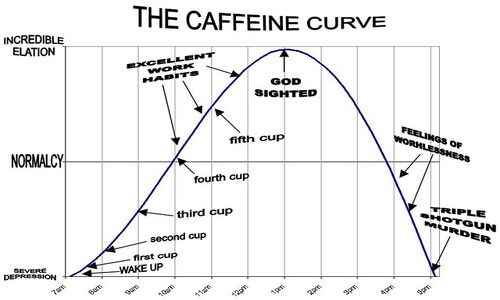 When we drink or eat caffeinated food, the caffeine molecule becomes a part of our bloodstream. It eventually reaches our brain where it replaces adenosine molecules and binds with adenosine receptors itself. This stalls the signal of drowsiness and sleeps in our brain since our brain did not detect adenosine.
This also increases the number of other neurotransmitters like norepinephrine and dopamine, thus causing us to get alert and stay awake.
Benefits of Caffeine on Body
Boosts Attention and Alertness
Perhaps the number one reason people reach out for a cup of coffee or tea is to help them stay alert, focused and awake. In a study conducted, consumption of caffeine was found to increase coordination, memory, judgment, and alertness of the participants.
It is especially beneficial in waving off side effects of lack of sleep.
Caffeine can help you in losing weight due to two reasons:
It reduces your appetite thus you eat less than you would have normally
Stimulates our body and digests food more effectively
It was also found to be beneficial in breaking down stored fats of the body, thus making it effective in losing weight.
RECOMMENDED FOR YOU
People who suffer from asthma might be able to take relief in caffeine. A study shows that it can open airways and relieves symptoms such as coughing, wheezing, and breathlessness.
The structure of caffeine is like Theophylline, which is a drug used for treating symptoms related to asthma.
Lowers Risk of Oral Cancer
According to a study, the consumption of coffee can reduce the risk of mouth and upper throat cancer by half.
Reduces the risk of Kidney Stone Formation
Caffeine has an effect of making the urine more dilute, which was found to be beneficial in reducing the risk of stone formation in kidneys. It also showed promising results in reducing the mortality rate of people with chronic kidney disease.
Side Effects of Caffeine
Overconsumption of caffeine may cause the following side effects:
Caffeine increases alertness by blocking out the effect of adenosine. But when it is consumed in high dose, this effect can become more pronounced causing nervousness and anxiety.
In a study conducted it was found that caffeine consumption raises blood pressure, especially in those people who were already suffering from hypertension. This effect was more prominent in people who don't normally consume caffeine.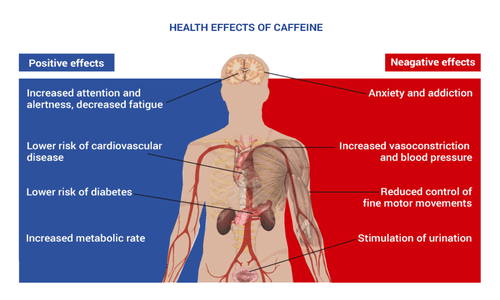 May raise Blood Sugar Levels
If you suffer from diabetes, then be careful about your caffeine consumption. Caffeine can make insulin less effective, leading to a small rise in blood sugar level.
Caffeine can help you to stay alert, but its overconsumption may cause you trouble falling and staying asleep. If you're facing the sleeping problem, then it's best to reduce or cut off your consumption in the afternoon.
People who consume coffee or tea on an empty stomach often complain of an upset stomach and indigestion. Consumption of coffee in large quantity may also lead to GERD and diarrhea in some people.
Conclusion
Caffeine can be a godsend when you need to stay alert and focused. They also have some health benefits and make for a great companion along with a book! But its overdose can be harmful and lead to many side effects.
The key is moderation. After all, what better way to relax than with a friend and a cup of tea or coffee!
And if you enjoyed this post, don't forget to help it spread. Peace!

SUGGESTED FOR YOU