Do you know how a Balanced diet can really revamp your body? If not, then don't panic, I would love to help you out.
A Balanced diet is an ideal diet that you should be consuming in order to get all the nutrition and calories your body require. Our diet plays a major role in our health and diet is extremely crucial for the wellbeing and health of our body.
The definition of such a diet keeps evolving, but as per the most recent research, a balanced diet should include foods from all the major groups of food. These foods are enough to meet the calorie and nutrient requirement of your body while keeping it healthy and protecting it from illnesses.
5 Food Groups of a Balanced Diet
In order to consume a balanced diet, you should aim that foods from the following 5 groups are present in your Diet.
These 5 groups are:
1. Vegetables
2. Fruits
3. Grains and Cereals
4. Lean meat, poultry, fish, eggs, legumes (beans) tofu, nuts, seeds
5. Milk, cheese, yogurt or alternatives
If you eat a diet consisting of these 5 groups, you'll consume all the important nutrients required by your body and your body will surely thrive.
While consuming these foods, we should not indulge and eat without a limit. In fact, for a healthy body, one should always try to maintain an energy balance.
That means the calories taken in from the diet should be equal to the calories used by our body.
Let's look into the detail of these 5 food group
1. Vegetables
The vegetable group includes five subgroups:
• Green vegetables like spinach, peas, broccoli, etc.
• Red or Orange vegetables like capsicums, tomatoes, carrots, sweet potato, and pumpkin
• Purple vegetables like red cabbage and eggplant
• Starchy vegetables
• Beans
• Other vegetables, such as eggplant or zucchini
It is best to consume these vegetables raw as cooking them might devoid them of their nutritional value. Additionally, you should also aim to have all subgroups of vegetables once a week to get maximum nutritional benefits.
RECOMMENDED FOR YOU
2. Fruits
Apart from being yummy, fruits are a rich source of nutrition and antioxidants. Although drinking fruit juices are convenient, they lack dietary fiber so it's best to eat fruits in their natural form.
Subgroups of fruits are:
• Tropical: Mangoes, bananas, pineapples, pomegranates, and papayas, etc.
• Pomes: Apples, kiwis and pears, etc.
• Melons: Watermelon, casaba, and muskmelon, etc.
• Citrus: Oranges, lemons, grapefruits, and tangerines, etc.
• Berries: Blackberries, cranberries, and strawberries, etc.
• Drupes: Peaches, plums, cherries, plums, and apricots, etc.
3. Grains and Cereals
Grains are further divided into two groups: whole grains and refined grains.
Whole grains contain more fiber, minerals, vitamins, and protein than refined grains. In processed grains, some of these nutrients are lost.
In the past, it was advised that grains should make half of a person's meal portion but now it is suggested that grains should only make a quarter portion of a person's meal.
Some options of whole grains are oats, brown rice, quinoa, etc.
4. Protein
This group of food provides protein, minerals, and vitamins and should also be making a quarter portion of your meal.
You should be careful in consuming large portions of red meat as it has been linked with increased risk of bowel cancer.
Some options for nutritional proteins are lean beef, chicken, turkey, fish, beans, and legumes, etc.
5. Dairy
Milk is a good source of calcium, vitamins, and proteins. If you are lactose intolerant then choose a soy-based option of calcium and other nutrients. Just ensure that the alternative to milk you chose has at least 100mg of calcium per 100 ml.
This food group includes milk, cheese, yogurt, and soy milk, etc. and is the most vital source of calcium.
Oils ( Can be considered as 6th Food Group)
Oils is another critical element but should be implemented with the utmost care. I recommend the consumption of low-fat oils such as olive oil which is comparatively superior to vegetable oil.
Deep fried foods should always be avoided for better health care.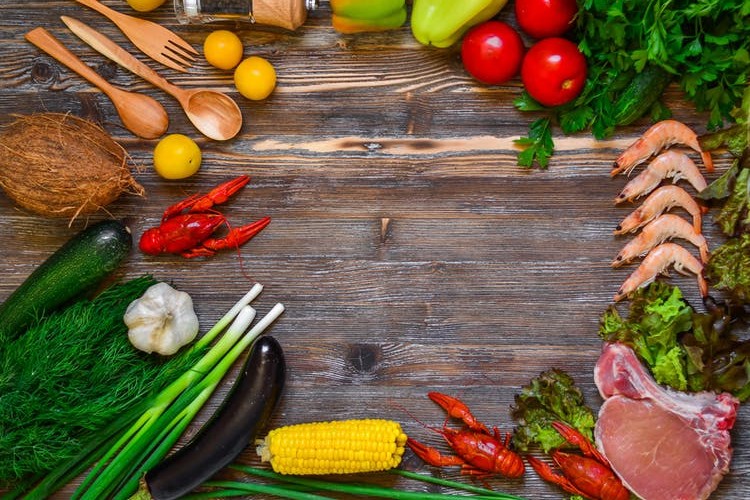 Calorie in different Nutrients
The amount of calories per gram for each macro nutrient is as follows
Carbohydrate contains 4 calories
The protein contains 4 calories
Fat contains 9 calories
The calorie count can assist in planning and implementing your diet. Thus, best fitness levels can be accomplished with ease as diet is the most critical element for a body.
Conclusion
A balanced diet includes foods from the five groups mentioned above and can fulfill all of your nutritional needs. Eating a balanced diet can help you to maintain good health and reduce the risk of many diseases.
So, my suggestion would be to pursue a calculated diet plan and follow your calories accordingly.
If you enjoyed this post, I'd be very grateful if you'd help it spread. Cheers!
SUGGESTED FOR YOU