Are you totally annoyed with your search to find a decent Whey Protein Supplement? If yes, then this post can help you reach an answer to your quest for the best Whey Protein. Whenever we talk about the best Whey Protein Supplements, Optimum Nutrition (ON) Gold Standard undoubtedly is a well respected one. 
In Today's world more and more of us are getting protein deficient thus the importance of Protein supplementation has surged in the recent past. Moreover, they are simply the perfect partners for all sorts of workout routine be it pre or post workout.
Established way back in 1986, Optimum Nutrition is one of the best selling Whey Protein in the food supplement industry today. With an experience of over 3 decades, this brand has never disheartened its beloved customers.
Whey protein supplements are extensively used for improving strength and athletic performance. Whey protein aids in recovering and repairing of tissues and muscles quickly after an intensive workout session. It also enhances the body's immunity and does assists in both muscle building and fat loss.
I assure you that the macro split of Optimum Nutrition Gold Standard is of really high standards, provided you neglect the sweet taste, some portions of carbohydrate and fat.
Box of Optimum Nutrition (ON) Gold Standard 100% Whey Protein Contains
Sales Package Includes 1 Protein Supplement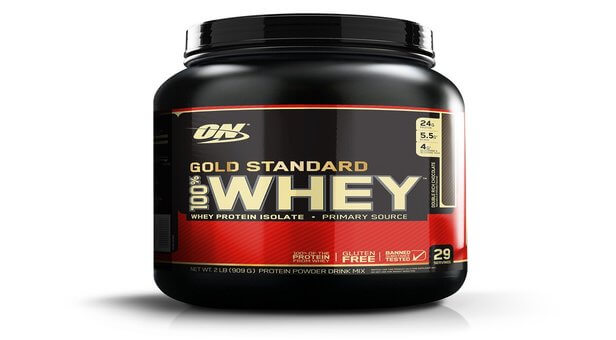 General Information
Brand Optimum Nutrition (ON)
Model Gold Standard 100% Whey Protein
Quantity 5 lbs, 2.27 kg
Flavor Double Rich Chocolate
Protein Type Whey Protein (Blend)
Form Powder
Servings per container 74
Serving size per scoop 30.4 g
% Daily Value (Nutrition Profile)
* Percent Daily Values are based on a 2,000 calorie diet.
Calories 120
Carbohydrate 1 %
Protein 48 %
Fat 2 %
Dietary Fiber 0 %
Sodium 5 %
Saturated Fat 5 %
Cholesterol 18 %
Calcium 8 %
Vitamin A 0 %
Vitamin C 0 %
Iron 0 %
Optimum Nutrition (ON) Gold Standard 100% Whey Protein Benefits
The Optimum Nutrition (ON) Gold Standard 100% Whey Protein is made to help enhance your body build-up as it boosts muscle regeneration and torn tissues, especially after a hard workout session.
What makes this Whey Protein even more unique is that it helps to keep your muscles in shape even when you are not actively doing workouts, as it contains all the 9 essential amino acids.
It comes in four different jar sizes which are of 1, 2, 5 and 10 lbs. Also, it is available in the form of sachets for small servings and portability issues. It's suggested serving size is 30.4g, at least once a day after a workout, out of which 24g is protein and 5.5g is BCCA.
The available fat content is 1g whereas carbohydrates content is 3g.
It can be consumed with milk or by mixing in water. The consistent and smooth textured drink includes flavor options like Double Rich Chocolate, banana, Chocolate Mint, Vanilla Ice cream, Coffee, Strawberry Banana, and many more.
RECOMMENDED FOR YOU
My Verdict on Optimum Nutrition (ON) Gold Standard 100% Whey Protein
PROS
•             Good Value for money
• The Low percentage of carbohydrates and fat
• Great mixability
• 5.5g of BCAA's
• 4g of Glutamine and Glutamic Acid
• Contains Digestive Enzymes
CONS
• Presence of soy content (Lecithin), Lactose
• Artificial sweeteners
Packaging
Optimum Nutrition Gold Standard Whey Protein is packed in a tough black colored jar with a tight lid to prevent the container from breaking when it falls or from infiltration by insects.
Apart from the strength of the container, all the basic information you need to know about the content, such as its nutritional value, brand information, and the importer's contact details are clearly printed on the jar.
Packaging Points – 9/10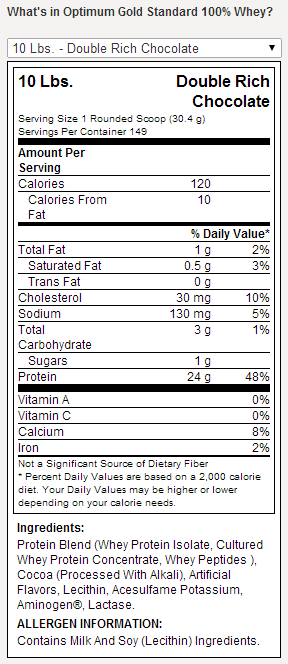 Ingredients
This protein supplement contains all that your body needs to stay healthy and strong. It contains a blend of protein (Whey Protein Isolates, Whey Peptides, and Whey Protein Concentrate), citric acid, lecithin, sucralose, lactase, etc.
Thus a complete package in terms of the nutritional value to achieve your fitness goals.
Ingredients Points – 8.5/10
Mixability
One of the many qualities of this product is its adaptability and blend with several kinds of cooking and baking. It dissolves perfectly in milk, and it can be mixed with cake ingredients, and other baking such as doughnuts, pancakes, etc. You can also consume it alone by just adding water or milk.
The mixability factor is just excellent for Optimum Nutrition Gold Standard Whey Protein.
Mixability Points – 9/10
Taste
The Optimum Nutrition Gold Standard Whey Protein comes in different delicious tastes and flavors; these include the strawberry flavor, banana, vanilla, chocolate, coffee, malt, and several others that will keep your taste buds happy all day.
I was pleasantly surprised and completely tempted by its taste.
Taste Points – 9/10
Effectiveness
As per each scoop (30.4g) of Optimum Nutrition Gold Standard Whey Protein, it contains (24g) 79% of protein. The presence of 5.5g of BCAA's aids in instant muscle recovery which eventually helps to achieve the desired results.
I can boldly tell you that if you can take a scoop of this product at least once per day consistently for 3 months, you will be happy with the results, especially if you combine it with regular workout routines.
Effectiveness Points – 9/10
Side Effects
My personal experience coupled with research on the product has not revealed any side effect so far. However, some have reported cases of bloating and getting too fat due to overuse or excessive intake of the product without regular workouts.
But I can guarantee you that this product is perfect for your health as various research shows that it not only regenerates your muscles, it also reduces cancer tendencies and asthma.
Side Effects Points – 9/10
Value for Money
This Whey Protein is worth more than its cost of purchase, as it has a lot of health advantages to offer you. It is the perfect energy supplement for you as an athlete, heavy-duty worker, and every other individual whose goal is to have a perfectly strong and healthy body.
So, at the offered price point it is undoubtedly an excellent international Protein Supplement.
Value for Money – 9/10
Overall Points – 8.93/10 (HIGH RATED)
Conclusion
Optimum Nutrition Gold Standard 100 % Whey Protein is a stunning package overall. The ideal ratio of the macronutrients it offers with some really nice lip-smacking flavors is really hard to neglect. It's a low-carb, low-fat but still contains optimum-protein content to start and finish an exhaustive workout.
The only negligible downside which I observed could be the sweet taste of this great package. All in all, a must try excellent whey protein supplement which really is capable of offering excellent results.
P.S. – I encourage you to consult your physician before engaging yourselves in any sort of supplementation.
If you enjoyed this post, I'd be very grateful if you'd help it spread. Cheers!
SUGGESTED FOR YOU