Salt, in my eyes, is the king of all condiments. Just imagine a savory food without it – it's so bland and unappetizing. But excess of everything is bad, and the same is the case with salt. Excess of salt consumption has been linked with many a disease, especially blood pressure and heart diseases.
Let's learn more about its role in our body, and how much we should be having of it.
Salt and its Function
Salt is a naturally occurring mineral that is made up of sodium and chloride ions (NaCl). It has many uses in our diet – it gives taste to food, used as a preservative, and as a binder. Sodium is an essential nutrient that is required for a wide range of functions in the human body.
It is required for electrical signaling in the nervous system and conducting nerve impulses, relaxing and contracting muscles, and maintain a balance of water and minerals in our body.
We only need about 500 mg of sodium for all these crucial functions. Anything above and beyond is considered excess of sodium which has been linked with an increase in blood pressure. It also affects our kidneys, arteries, and brain.
If our blood pressure level begins maintaining high for too long, it can result in strokes, heart attacks, kidney diseases, and in some cases, dementia.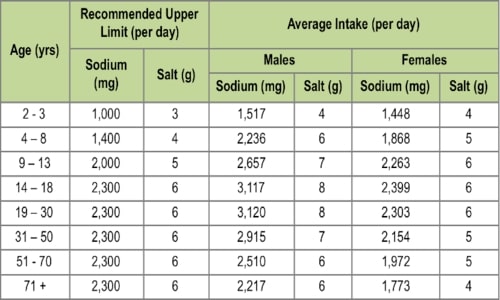 Recommended Salt Intake
Every individual has different requirements for salt or sodium for their body. This requirement depends on age, gender, activity levels, and health history, etc. The following guideline from the NHS may help you gauge the recommended salt intake for yourself:
Adults (includes children aged 11 years and above), should limit their salt intake to 6g in a day. This means around 2.4 g of sodium which is roughly one teaspoon of salt.
Children, ages 7 to 10 years, should not eat more than 5g of salt in a day.
Children, ages 4 to 6 years, should consume 3g or less salt in a day.
Children, ages 1 to 3 years, should consume less than 2g of salt in a day.
Salt and Exercise
Sometimes, we overhydrate ourselves during exercise, which can dilute the sodium present in our bloodstream. If the sodium outside of our cells is diluted too much, a critical balance is knocked off which causes water to seep into our cells causing them to swell up.
Over time, this can cause the athlete to feel weak, nauseous, incoherent, and in extreme cases may lead to seizures.
RECOMMENDED FOR YOU
Sodium plays a key role in maintaining the correct balance of water inside and outside of our cells. Hyponatremia, the condition of having low sodium in the blood, is equally dangerous as having a high amount of sodium in our bloodstream.
Athletes, marathoners, and people who exercise for more than four hours a day are at a higher risk to get affected by this condition.
Sweat is also part and parcel of an intense workout or exercise routine. And you must already know that we lose body salt through sweat. Therefore, you might have wondered whether you should up your salt intake post-workout to make up for the lost mineral.
Here's how you can access your individual needs and stay healthy:
1. See if you sweat Salt
After you have had an intense exercise day at the gym or an extremely hard training session with your coach, you probably have top drenched in sweat. Hang your top to dry and look out for the white residue that is left behind. This is all the salt that you lost through sweat.
If you lose a lot of salt via sweating, then make sure to include sodium-containing foods in your post-workout snack. Have some cracker, string cheese, or fruits.
2. Keep a check on your BP
As we age, our blood pressure starts to maintain a high level. But you should be vigilant and get your BP checked regularly to look out for any fluctuations. And if you feel dizzy post-workout, it's a good practice to check out for low BP in case you lost too much sodium.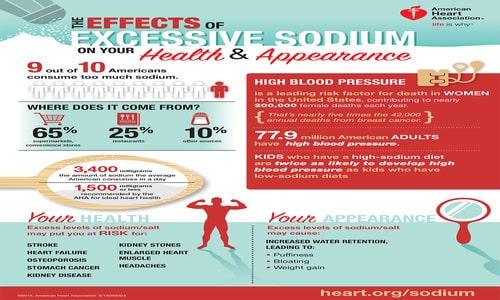 3. Family History is Important
Even if you exercise and stay fit, you may have high chances of getting inflicted with hypertension if it runs in your family. In that case, keep a check on your sodium intake and try to cut down in order to maintain a healthy heart.
Conclusion
Salt (Sodium) is an essential nutrient which should be consumed moderately. Although athletes and people who do intense workout may need slightly more sodium than regular people, its important that you access your individual needs before increasing its intake.
Excess of everything is bad and salt is no different. A healthy unprocessed diet should be consumed regardless by everyone, to stay fit and well.
If you enjoyed this post, Don't forget to spread the words. Thank You!
SUGGESTED FOR YOU