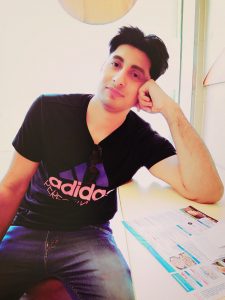 WELCOME TO VICKYNAGAR.COM
An online destination where Fitness and Nutrition meet with a new body transformation. Made with a hint of Fitness and Nutrition Planning with result-oriented self improvement, Plus, it's the best way to stay up to date on my (Vicky Nagar's) personal musings and daily discoveries. And it doesn't stop there…
Our weekly newsletter updates about the newest features added on the blog and welcome you to take part in amazing contests and giveaway opportunities. Simply put, consider vickynagar.com your favorite health haven.
ABOUT VICKY NAGAR

Born in DELHI/NCR and raised across the country, India. I'm the founder of vickynagar.com, a Fitness and Nutrition blog. I'm an absolute vegetarian and completely natural athlete, passionate fitness trainer and a blogger, love to share my knowledge and experience earned over the years. I'm an MBA in Marketing and HR along with a bachelor's degree in Computer science. I'm having a professional experience of almost 10 years in versatile sectors like IT, NGOs, Trusts etc.

I'm a proud Military brat who has explored all parts of the country and is also a passionate national level athlete and a soccer player. I'm engaged as a social entrepreneur and is committed towards the uplifting of the neglected sections of the society and giving them a platform to show that disability is not inability. Together we form a driven team of talented minds dedicated to a success story.
Also I'm a solo traveller and a dog lover!!
Once again, I welcome you all to my blog.