When some external factor causes damage to our body, it's called an injury. Injuries are quite common in our daily life; paper cuts or ramming our elbow on a piece of furniture are usual occurrences. But we become more prone to serious injuries when we're working out or playing sports etc.
Unlike common wounds, a sports injury can hurt more and can be more serious in the long run.
Some people are more vulnerable to sports and workout injuries than others. This can be because they're either not:
Regularly active
Warming up correctly before exercising
Play a rigorous or Contact sports
Performing the exercise with correct posture
There can be some other reason for an injury as well. I'm writing this post to help educate you about its types and how to prevent them.
Types of Injuries
Acute Injury
Have you ever gotten a bone fracture? The whole incident is quite traumatic, and the pain is abrupt & sharp. That is an example of an acute injury where you immediately feel sharp and sudden pain and it must be treated right away, e.g. wrist fractures, shoulder dislocation, and muscle strains, etc.
Some of the signs of acute injury are:
Sudden and severe pain
Swelling
Visibly dislocated or Broken bone
Inability to move joints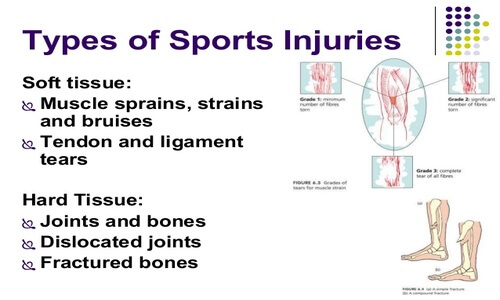 Chronic Injury
Chronic injuries are the more common type of workout injuries. Unlike an acute injury, a chronic injury doesn't become evident immediately, making them hard to identify and treat. That is because these are the result of activities which cause microtears in our muscles, joints, and bones.
The most common cause of chronic injuries is improper technique while working out or trying to progress too fast too soon. And since these are undetectable at the start, they can go untreated for a long time and become more serious.
Some of its examples are runner's knee, heel inflammation, tendinitis, and shin splints, etc.
Chronic Injuries are also sometimes called overuse injuries since they can also happen when we repetitively use our soft tissues (muscles, bones, and joints) without giving them proper time to recover and heal.
Some of its signs are:
Dull pain while performing any activity
Dull ache even when at rest
Swelling
RECOMMENDED FOR YOU
Injury Prevention
Sometimes small acts can be effective and fruitful in the long run. All these injury prevention steps are just that, they might seem obvious, but they can really go a long way to protect you from both acute and chronic injuries.
1. Adequate Warm-up and Cooldown
Warming up and cooling down are the first and last part of a workout but they are often performed in an insufficient manner. A warm-up is important since it prepares your body for the vigorous exercise coming ahead. It slowly increases your heart rate and loosens up your soft tissues.
Similarly, a cool down is important to bring your heart rate back to normal and disconnect from the workout mindset before resuming normal activities. Walking for a few minutes after your workout is a great way to cool down.
2. Proper Technique
Chronic injuries are most commonly caused by performing an activity with improper technique. Different types of exercising require different posture and body movements. If you're repeating an exercise with improper technique, it can put extra stress on your muscles and joints, resulting in injury.
3. Proper Equipment
If an activity requires the use of protective gear, such as a helmet when cycling, then make sure you use it properly and religiously. Similarly, workout shoes are different from regular shoes, so invest in a well-fitted pair of shoes for working out.
4. Shuffle your muscle Groups
It is important that you vary and cross-train your muscle groups when working out. Repeating the same muscles daily or more than thrice a week can lead to overuse which can cause a chronic injury. If you use leg muscles one day, then vary it the next day by working out using chest muscles.
You can also spice up your workout routine by hitting the gym one day and going for a run or swim the other. This way you'll add variety while also giving your body time to heal and recover.
5. The 10 Percent Rule
One of the things I noticed around my gym is people not using the 10 percent rule. The 10 percent rule says that you should not increase your activity for more than 10 percent in a week.
If you lift weights, then don't increase or add more than 10 percent of your usual weights in a week. Same goes for mileage when running. In this way, your body will get proper time to rest, heal, and recover from these strenuous activities.
Conclusion
Being more careful when working out and playing sports can help us avoid suffering from an injury. That is why you should always warm up and use proper gear and equipment for an activity.
Similarly, if you get hurt and feel pain in your body while working out, then don't ignore the injury and go see a doctor if the pain persists.
Stay safe and healthy!
If you enjoyed this post, kindly help it spread. Cheers!
SUGGESTED FOR YOU