I've heard many people saying be a vegan to be smart and healthy. Nowadays, people because of the obsession to stay fit and fine, say vegetarianism is better. There has been an age-old argument for and against Vegetarian Vs Non-Vegetarian diet.
Remember, we all have experienced differences in our lives based on Language, Geography, Demography, Gender, and Food and Dietary habits.
So, the obvious question popping in our mind is what exactly is this group of people divided based on food?
But before landing on that, let's be clear that the correct food or diet is the essence of living a healthy life. And, eating a healthy and nutritious diet is the need of the hour to prevent falling prey to a lot of deficiencies or diseases.
Who is Vegetarian?
In general, Vegan is a person who doesn't eat meat or meat products, but that is not all. Surprisingly, it has a lot of broader classification than it seems. If you look at the dietary habits of these vegans, they, somewhat, differ from each other.
Broader Classification of Vegetarians:
Strict vegetarians: Who abstain from animal products including dairy, altogether, and eat only plant products.
Lacto-vegetarians: Who adds lots of dairy products in their diet but don't eat meat or eggs.
Lacto-ovo-vegetarians: Who includes poultry and dairy products in their diet. But, stay away from meat, completely.

Ovo-vegetarians: Generally also known as Eggetarian, consume plant-based food plus eggs.
Who is Non-Vegetarian?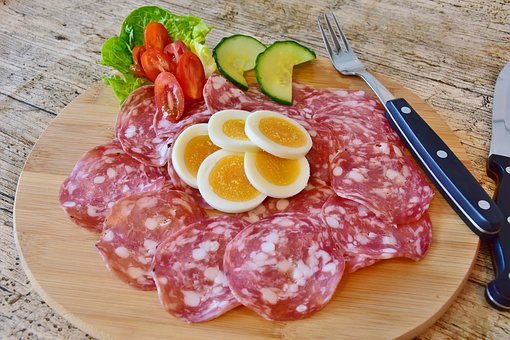 Non-vegetarians, on the other hand, eat plant and animal products like meat, chicken, eggs, etc. They normally don't abstain from any sort of food irrespective of the source.
RECOMMENDED FOR YOU

The Debate
If we debate on the topic of the Vegetarian Vs Non-Vegetarian diet, both have pros and cons. Why would someone think being a vegan is like leading a healthy life?
Of course, it is true that animal products are loaded with fat. Those who consume much of animal products have to encounter problems like obesity, cardiovascular disease. On the contrary, there are animal products that provide much-needed nutrition, which plant products can't provide.
Advantages of the vegetarian diet:
Low Saturated fats: vegetarian food is low in fat content and safe to consume. Many fruits and veggies are rich in fiber content. Therefore, they don't pose any serious threat to heart, which many diets containing fatty components, to the body.
There are cases of patients whose LDL level came down when they shifted to vegetarianism. There was no improvement in the LDL level in patients who took statin drugs along with their non-vegetarian diet. Plant products help us to maintain cholesterol levels under control.
Low BMI: Vegetarians have a low body mass index compared to those who consume animal flesh.
Lower risk of cancer: Studies prove that eating only plant products helped the body to control cancer-causing cells to a large extent. But, Colon cancer is predominantly found in vegans.
Aids Digestion: Due to the high content of Fiber and Water in a Vegetarian diet, it ultimately helps in digestion.
So, before you reach a conclusion on the Vegetarian Vs Non-Vegetarian diet, let's explore the benefits of the non-vegetarian diet.
Advantages of the Non-vegetarian diet:
Protein supply: Non-vegetarian food like meat, egg, fish are protein dense food. It is equally true that there are many plant products like cereals, nuts, and pulses that provide protein to our body. But, not in enough quantities.
Vitamin B12 rich: Do you know that meat, poultry products, and dairy products provide Vitamin B12, which is responsible for the production of red blood cells? These red blood cells are found in abundance in blood which transports oxygen throughout the body.
They also play a key role in puff out carbon dioxide from our system. If our body produces red blood cells in fewer quantities, hemoglobin content will come down and we will feel tired. So, if you want to stay healthy, you should include these foods in your diet.

Brain health: To make the brain work efficiently, you should chow down fish and eggs, in sufficient quantities. This will sharpen your brain. Non-vegetarian food is good for brain health.

Aids Muscle building: Due to a high percentage of protein, the non-vegetarian diet ensures timely muscle development and also increase in strength.

Conclusion

I think it is important to understand both sides and accept their choices without being judgmental. To put it short, the vegetarian Vs non-vegetarian diet debate helps us to understand that a flexitarian approach should be followed for leading a healthy life.

A flexitarian diet contains plant products and animal products in adequate quantities. Having meat products, at least three times a week along with lots of fruits, veggies, can help you stay in good physical condition.

Disclaimer: This content is to provide general information only. And the selection of the food type i.e. vegetarian vs non-vegetarian is entirely a personal preference.

If you enjoyed this post, I'd be very grateful if you'd help it spread. Thank you!
SUGGESTED FOR YOU